Commercial Trimlight Installation Service In Goodyear AZ
Make Your Business SHINE With West Valley Trimlight
Customizable color patterns to match business brand
Minimal repair & maintenance requirements
They aren't noticeable during the day and allow your building to look clean and professional still.
Have your business stand out year round! Trimlights is designed to have a unique and custom lighting system that will attract attention allowing people and your area to see your business all year round. Yellowing bulbs, hanging cords, faulty gas lights, and dim lights have plagued commercial lighting for decades, upgrade to a one time install that is simple and will last for years, as well as allowing you to celebrate all different occasions.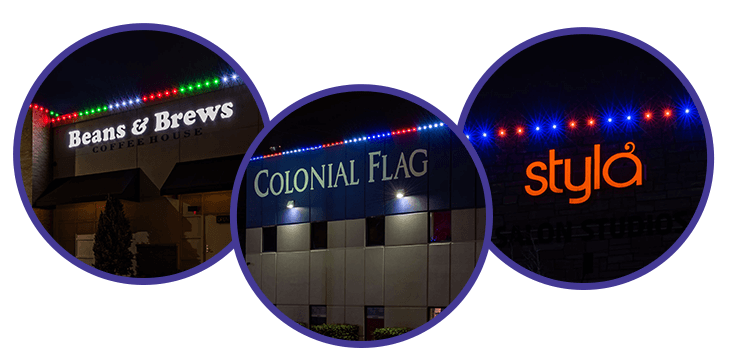 Customizable Colors
Permanent programmable lighting for businesses
Attracts More Customers
Increases Visibility, enhances brand recognition, and attract customers
Energy Efficient
Uses less energy and are able to use year round
Minimal Repairs
High quality product that has no maintenance and less repairs
TRIMLIGHT IS PERFECT FOR ANY BUSINESS
OFFERS SEVERAL BUSINESS BENEFITS…
Customizable color patterns to match business brand
Multiple animation patterns to attract more customers
Energy efficient for year round use
Minimal repair & maintenance requirements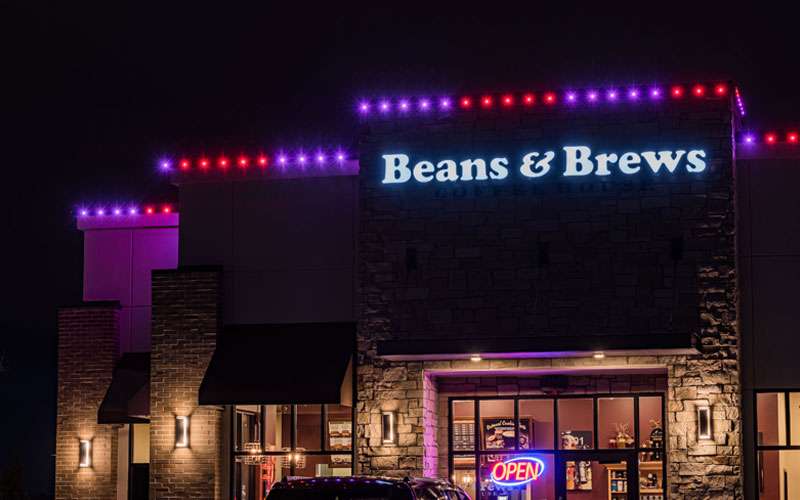 BEST DESIGN, VALUE & WARRANTY
Utilize larger lights that illuminate brighter to attract potential customers from a much farther distance
Trimlight app and can be programmed to a schedule for an entire calendar year.
Business owners can customize the colors, patterns, speed, transitions and even brightness of the system, catch customers attention throughout the year
The system is built with top-quality products and components
The channels match the trim of your roofline and the lights are easy to replace if one ever goes out.
LESS NOTICEABLE DURING THE DAY
Our Patented aluminum channel allows for simple attachment to any roofline.
All lights are held securely in place and there are no wires that can be seen.
Our channel keeps UV damage from getting to the lights
You only need to install our lights one time, taking the worry, stress, and financial out of doing this every year.
Our LEDS can last 20 to 30 years.
Our LEDs use 1/10 less energy than your typical decorative lights and last longer as well.
Weather is of no issue as our LEDs are able to withstand most adverse weather
They aren't noticeable during the day and allow your building to look clean and professional still.
You can use them all year long and celebrate even more holidays.
NEXT GENERATION FUNCTIONALITY
Trimlight's, cutting edge app is user friendly, giving you the option to select preset patterns or holidays, as well as the ability to create & customize any color pattern or animation desired.
You can choose a wide range of color options, combinations and even animation, making your business fun and different. You can also save those patterns for future use.
You can even choose preset holiday patterns
Support your favorite holiday or sports team giving your business a unique look every time.
You can change the brightness and color, and speed.
Fully programmable timer & calendar function for daily, monthly or yearly events. Set it and forget it!
Problems with Existing Temporary Lighting
Temporary lighting looks terrible during the day with exposed wires & lights that are rarely evenly spaced.
Hanging temporary lights every year is a huge hassle & poses risk of serious injuries.
Incandescent bulbs waste energy and are not as durable, causing maintenance issues.
Most temporary lighting is not programmable, can't change colors, patterns or animations.
Temporary lights wear out quickly from exposure to snow, ice & sun damage.
Plastic clips that break, leaving dangling, broken lines that can damage the roof line.