Trimlight Installation Company in Goodyear AZ
Trimlight – Made for Life's Moments
Permanent, Programmable Holiday & Year Round Lighting
Experience the Benefits of Expert Trimlight Installation in Goodyear, AZ
Lights on the exterior of a business or a home in Goodyear, AZ, serve several different functions. Outdoor permanent lights add safety and security, keeping driveways, walkways, and entrances visible.
In addition to adding to the security of your home or business, LED outdoor lighting is also a way to add to curb appeal. At West Valley Trimlight, we offer a variety of options in programmable LED outdoor lighting solutions that are fully customized to your building, adding light where it is needed.
Adding Trimlight LED outdoor lighting solutions means one set of permanently installed lights that can be used throughout the year. No more putting up and taking down holiday lights. As an added benefit to our systems, you can change color any time you want throughout the year.
Professional Trimlight Installation
West Valley Trimlight provides both outdoor under eave and soffit lighting that is perfectly customized to enhance the look of your home. Our energy-efficient LED lighting solutions can be enjoyed all year round, making your home or business stand out.
Our Trimlight solutions allow you to change the color of the lights for Christmas or any holiday or special event, providing maximum flexibility for home and business owners. In addition to professional Trimlight installation services, we also provide fully programmable systems that make it easy to add color, animation, and a unique look to your home without the need to change any outdoor lights.
For the best in outdoor permanent lights for your business, home, patio, deck, gazebo, or pergola, call on the team at West Valley Trimlight. To talk to a representative in Goodyear, Surprise, Peoria, Phoenix, Buckeye, Litchfield and Avondale, AZ, at a Trimlight company near you, call us today at 602-767-3412.
Trimlight is an innovative, patented lighting system (Patent # 8,926,118) that allows customers to have permanent, exterior lighting professionally installed on their homes and businesses, eliminating the hassle and worry out of hanging Christmas or holiday lights ever again!
With virtually unlimited color and animation options, our programmable system gives customers the control and versatility to set their lights for every major holiday, sporting event, or any special occasion throughout the year. Trimlight provides bright, beautiful holiday and year round lighting at night, which is hardly noticeable during the day so the system can be left up all year, every year!
​In addition, Trimlight offers elegant lighting solutions for patios, pergolas, gazebos and decks.
Trimlight provides the materials
and completes the installs
Providing bright, beautiful lighting at night, which i hardly noticeable during the day and stays up permanently.
You never have to worry about the hanging temporary light again
Residential
Downlight's for accent & security lighting, deck railing for ambient backyard lighting, patios, pergolas, awnings pool covers… The possibilities for your home are endless with Trimlight! West Valley Trimlight has the expertise needed to install the perfect year-round lights on your home!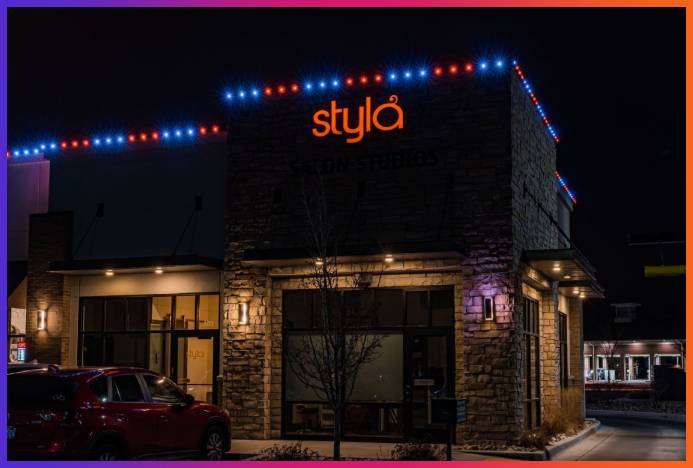 Commercial
Increase visibility for your business to attract more customers enhance brand recognition! West Valley Trimlight offers customizable colour patterns to match your business brand, multiple animation patterns to attract more customers, energy efficiency for year round use, and minimal repair and maintenance requirements!
Whether you own a home in an HOA ran neighborhood and are looking to install in your residence, or you're an HOA that is looking to add a little shine to your community – West Valley Trimlight is a professional option for anyone. Trimlight is approved by nearly every HOA due to its clean, professional design and installation.
Stand out in your Neighborhood
Why Choose West Valley Trimlight?
Check Out Our Projects Around The West Valley